Swell
Swell makes getting more 5-star online reviews for your office easy so you can attract new patients!
Get your set-up fee waived below!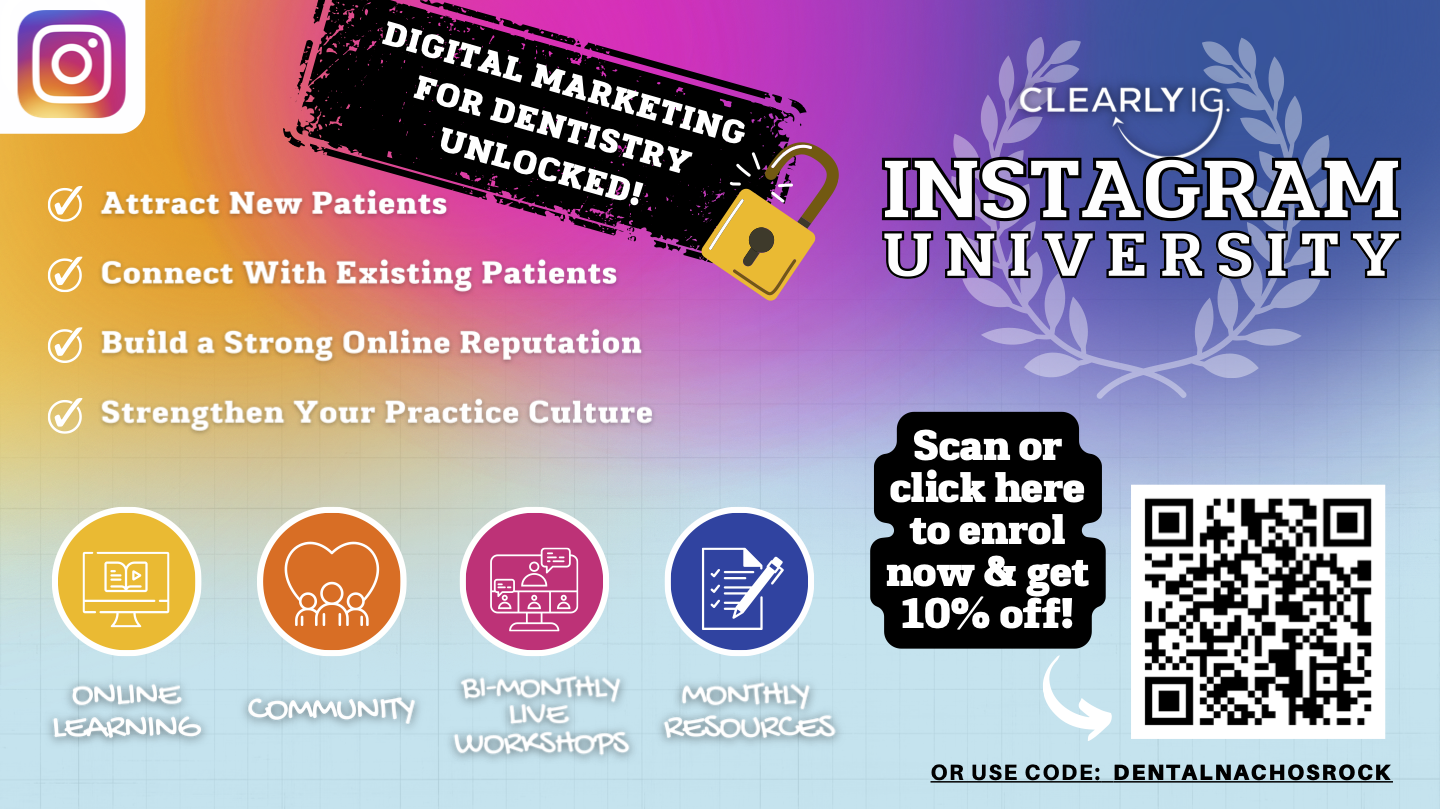 Clearly IG
THE Masterclass to effectively grow your dental practice, gain new patients + recruit right fit team members.
Use code "DENTALNACHOSROCKS"
DeAngelo S Webster
Learn Step-by-Step in just over 90-minutes exactly how he marketed his own dental practice using Facebook Ads to consistently get nearly 100 New Patients each month.
Get a Nacho deal below!
Ed Lloyd & Assoc.
Real time accounting services and financial reporting. They help rescue wasted tax dollars for dental practice owners by $54,583 per year on average.
Free second opinion tax assessment!
Duckett Ladd
Duckett Ladd is a team of dental focused accountants + growth advisors that help build business and financial strategies for dentists at every stage!
Get a free consultation below!
Student Loan Planner
Student Loan Planner can help you get better control of you debt and pay off your student loans faster and smarter!
Get $100 off your consultation below!
Dental Stores
Help your patients and your office with a custom in house membership plan and patient store! They make it easy to get started.
Get a free demo below!
Dental Warranty
Dental Warranty can help your patients can get a Protection Plan that gives them peace of mind for up to 6 years -- while increasing your hygiene retention!
Get $500 off your set-up fee below!
Merchant Advocate
Merchant Advocate help lower rates and eliminate hidden fees WITHOUT switching processors and with no upfront cost
Get a free analysis below!
NadaPayments
Eliminate the cost of accepting credit cards by using the Nada Payments solution.
Get $49.99 off the monthly integration fee!
CareCredit
Help more patients accept the treatment they want. CareCredit's library of guides, articles, scripts and more to help you make CareCredit work for your practice!
Access their free library below!
Robert H. Montgomery, III. Esquire, PC.
You need a Dental Focused Attorney in your corner for any major decision of your dentisting journey! (Click here for Rob & Dr. Nacho's podcast!)
Reach out to Rob for legal help below!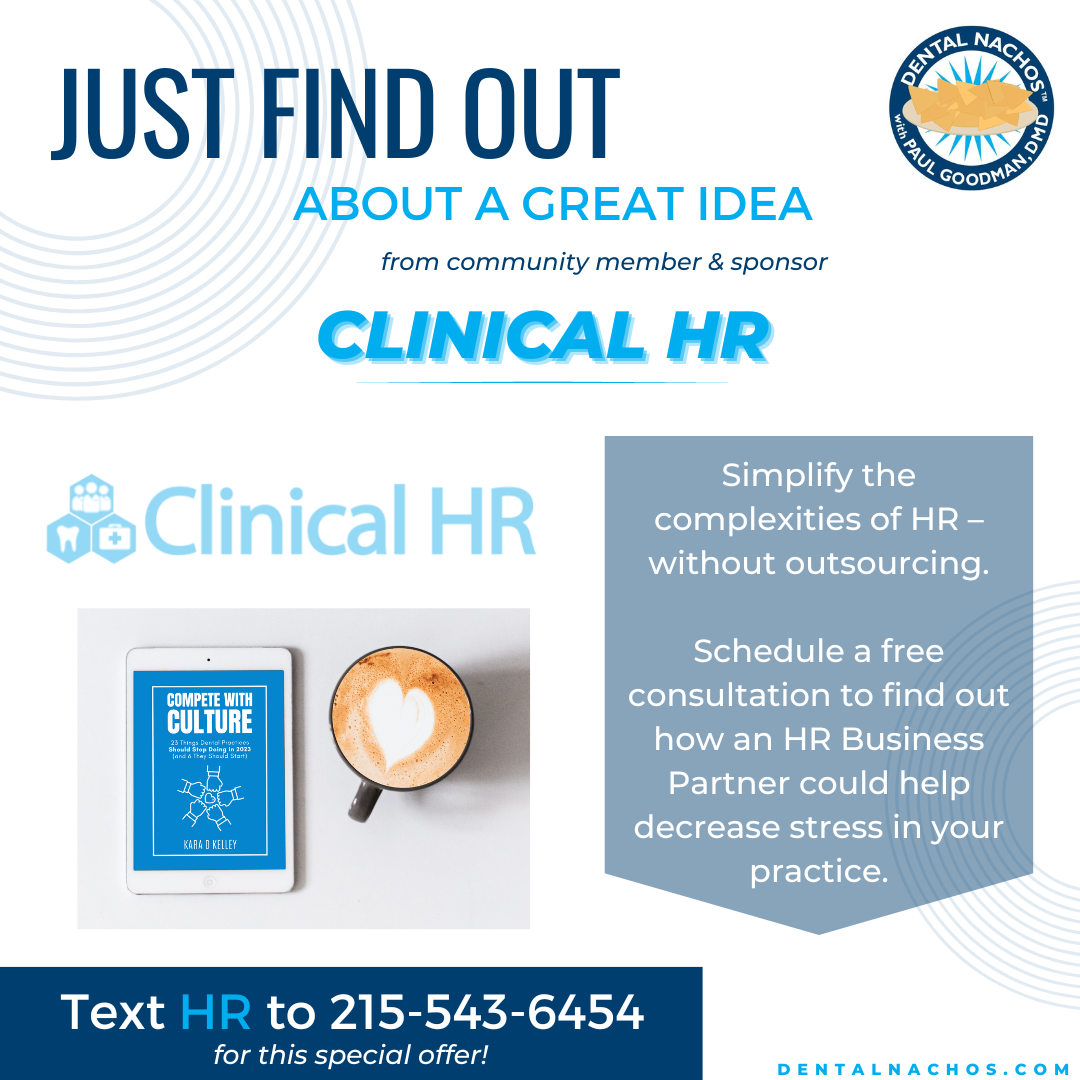 Clinical HR
Simplify the complexities of HR – without outsourcing. Get an HR Business Partner to help decrease stress in your practice. Get a free copy of their e-book on company culture by texting HR to 215-543-6454.

Free consultation for practice owners!
JG Money Matters
Get Money Management + Practice Development help with their customized services including Setting Fees, Bookkeeping, HR, Coaching, Software Reporting, Business Analytics and more.
Get a free consultation below!
Mapp Your Practice
Through evaluation, improved systems and team training, they help dentists from startups to multi-office groups be more profitable with PPO insurances as well as dropping unprofitable plans.
Get a free consultation below!
Bookkeeping Aesthetics
Helping private practitioner dentists control cash flow, become more profitable and gain peace of mind. Their free consultation includes a review of your accounting software and recommendations for improvement.
Get your free consultation below!
Theresa Sheppard Solutions
A risk management + insurance consultant, helping prevent dentists from accidentally breaking the law while ensuring you don't miss revenue. Uncover an average of 2,000 - 10,000/month in miscoded, uncollected or unbilled services
Find out if your practice is at risk!
Sunrise Dental Solutions
Take your practice to the next level with practice coaching from Sunrise Dental Solutions. Mention "Dental Nachos" and get a free one hour coaching call!
You'll get a free copy of their book too!
Dental Intelligence
With Dental Intelligence, you can use the power of data to improve patient care, team collaboration, and practice profitability!
Schedule a free demo below!
Mango Voice
Voice, text, fax, integrate! Get all the features you need to modernize and simplify communications for your dental practice with Mango Voice.
Access our special promo below!
Dandy
A fully digital dental lab that gives you a free Trios scanner, industry-defining turnaround times, top-quality manufacturing, and more!
Get a free consultation below!
Flex Dental
Pairs perfectly with Open Dental to modernize your communication, reduce your team's workload, increase treatment acceptance, + more!
Get a free consultation below!
Curve
Curve Dental is the all-in-one cloud-based dental practice management solution that makes it easy to manage your practice - while saving you money!
Exclusive offer for Nachoers below!
Kettenbach
Learn about Dr. Nacho's favorite alginate alternative, Visalys core build up material + other special deals. Join our buying club to get the best price possible!
Secure your nachonuts pricing below!
Smilemakers
Helping improve patient experiences, one smile at a time, by building relationships that last through popular pediatric rewards + high quality supplies.
Get 20% off your order below!
GroupUps
Request a group buy on the equipment you need to get the same items at a lower price. You could save more than $12,000 on a single piece of equipment!
Let their team negotiate for you!
DentalEZ
Smart technology with lasting value. Leading dental products + equipment, with advanced front-to-back-office solutions from well-known brands.
Use H23DN for a deal on handpieces!
Five Lakes
Five Lakes helps develop, implement and manage a PPO participation strategy to attract and retain patients and maximize reimbursements.
Get a customized plan below!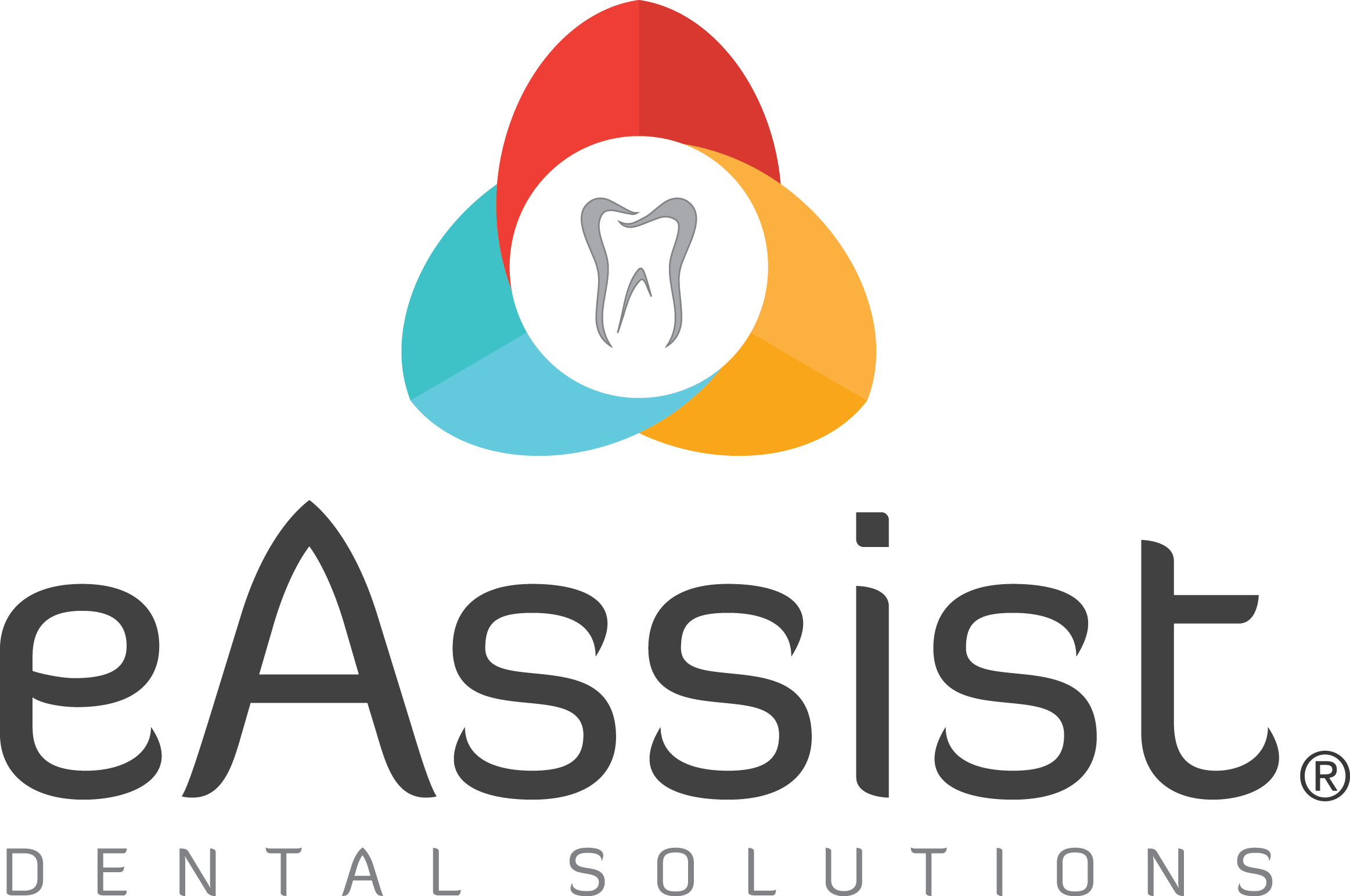 eAssist
Their platform can streamline your dental billing processes so you can get paid more, get paid faster, and focus your attention on your patients,
Get $207 off your first invoice below!
The Practice Mechanic
Remote Billing, P&L Benchmarking, Business Management, + Compliance Consulting to ensure your business is running at its best
Get a special Nacho Discount below!
Dynamic Dental Solutions
This revenue recovery partner can help make your practice more efficient and profitable by putting their billing services to work.
Increase insurance collections below!
PPO Profits
Get higher fees negotiated for you. PPO Profits helps practices generate more revenue from both insurance patients and cash patients!
Join a webinar to find out more below!
Midline Dental Partners
Get optimized Revenue Cycle Management AND Insurance Contracting to get higher reimbursements and faster payments.
Schedule a complimentary call below!
Doctor's Disability Specialists
Helping dentists understand and get access to disability insurance. Get a free consultation to review an existing claim or discover your options below!
Get a free consultation below!
Brockman Health
Providing dentists, their families, and employees with health + life insurance options that make sense for them.
Get a free health coverage quiz below!
Edge Health
Edge Health can help increase your practice's productivity, amplify your growth and scale your team by bringing you a dedicated employee at a fraction of the normal expense!
Schedule a discovery call below!
TempMee
Maximize your profits by being fully staffed and get access to dental professionals on your terms with TempMee!
Learn more below!
Interested in Becoming a Sponsor?
Find out more about our customized sponsorship packages. Email our sponsors team at sponsors@dentalnachos.com